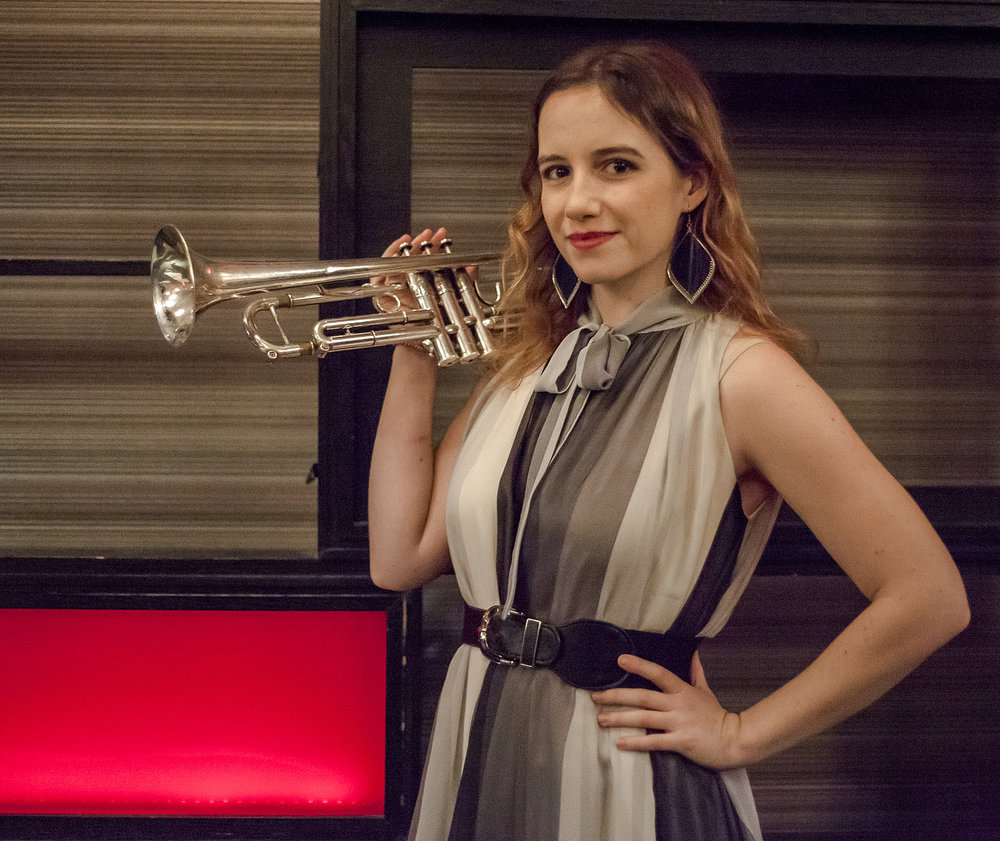 A native of Toronto, trumpet player/vocalist Marie Goudy started her professional career at the age of sixteen. By the age of nineteen, she had already played with many notable musicians including Benny Golson, Cleo Laine and Maria Schneider. Since then she has performed with Michael Buble, Donny McCaslin, and many others.
She graduated from the University of Toronto's Masters in Jazz Performance program in 2017. She has made her mark on the Toronto music scene playing jazz, funk, mariachi, folk and Latin music, and was a featured soloist in the 2018 SOCAN Awards. Marie has played on three JUNO-nominated albums with folk-funk singer/songwriter Alysha Brilla and toured to France, Chile, Yellowknife, and Singapore with that group.
Marie currently leads the Marie Goudy 12tet, a large jazz ensemble that is quickly rising through the Toronto jazz ranks. This group's first album, "The Bitter Suite" featuring vocalist Jocelyn Barth and produced by John MacLeod, was released in October of 2018. It reached #3 on the national jazz charts and received many glowing reviews, appearing on several "Top 10 Albums of 2018" lists.
Artist Page: http://mariegoudy.com/
Jocelyn Barth is one of Canada's most exciting emerging vocalists. As a jazz singer, Jocelyn is known for her emotional expressiveness and sensitivity. She delivers a lyric with intention, depth and authenticity while maintaining the playfulness of phrasing that comes from her instinctively instrumentalist-like approach to singing.
Jocelyn's pure tone, formidable range and technique and innate musicality have put her in increasing demand in a variety of settings. She sang on the soundtrack for the award-winning feature film The Witch and has performed and recorded with Canadian music icon Jane Siberry and Inuk throatsinging dynamo Tanya Tagaq. In November 2017, Jocelyn performed Robert W. Stevenson's sound poetry score "Cheap Sunglasses" at Harbourfront Centre Theatre for Danceworks' 40th Anniversary Celebration. Her layered vocals comprise the title track of progressive black metal band Thantifaxath's EP Void Masquerading as Matter.
Jocelyn's singing is featured on critically acclaimed jazz albums The Bitter Suite by The Marie Goudy 12tet, Art of Breath: Volume Two by John MacMurchy, Volume Two and Volume Three by Collective Order, and Muse by The Tiki Collective. Her vocals on The Bitter Suite received praise from All About Jazz, The WholeNote, The Jazz Music Blog, Toronto Music Report and textura. Her rendition of Bobby Troup's ballad "February Brings The Rain" on Art of Breath: Volume Two was called "exquisite" by Cathy Riches at The WholeNote. Jocelyn performs regularly with The Marie Goudy Jazz Orchestra, John MacMurchy's Art of Breath, The Tiki Collective, and her own trio.
Artist Page: https://jocelynbarth.com/main/
Jocelyn Barth – Vocals
Marie Goudy – Trumpet
Adrean Farrugia – Piano
Artie Roth – Bass
Andrew Scott – Drums